by E. Wyn James
'One of the best guarded secrets of the Island of Britain' is how a leading authority on Christian spirituality, Canon A. M. Allchin, once described the hymns of Ann Griffiths, a tenant farmer's daughter from mid-Wales who died in relative obscurity in 1805, aged 29, leaving just over 70 stanzas in the Welsh language which contain some of the great Christian poetry of Europe.
Ann's hymns have long been regarded as one of the highlights of Welsh literature, and since the mid-nineteenth century she herself has become a prominent icon in Welsh-speaking Wales. Reams have been written about her life and work. She has been the subject of novels, dramas, films and numerous poems. Latterly, through the efforts of Canon Allchin and others, she is becoming increasingly well-known to students of hymnology and spirituality outside Wales – not least following the inclusion of an English translation of one of her hymns in the service of enthronement of Dr Rowan Williams as Archbishop of Canterbury in February 2003.
'Despite the limitations of her work,' says Canon Allchin, 'her stature is to be measured against the great and unquestioned figures of the Church's history.' Such a claim contrasts starkly with her insignificance during her own lifetime, except within a fairly close circle of friends and acquaintances.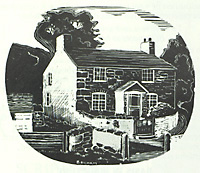 Dolwar Fach
(Illustration: R. Brian Higham)
The present house was built after Ann Griffiths's day. The old farmhouse was a long, thatched, single-storey building.
The main events in her life can be summarised in a few sentences. She was born 'Ann Thomas' in the spring of 1776 on a farm called Dolwar Fach in the parish of Llanfihangel-yng-Ngwynfa, near the market town of Llanfyllin in Montgomeryshire in north-east Wales. Technically, the part of Llanfihangel where she was born belonged to the parish of Llanfechain, some eight miles east; however, a long-standing arrangement meant that the inhabitants of that area were counted for all intents and purposes as parishioners of Llanfihangel-yng-Ngwynfa, and it was in Llanfihangel parish church that Ann was christened on 21 April 1776. She became mistress of Dolwar Fach at 17 years of age, following the death of her mother in January 1794. Her father died ten years later, in February 1804, leaving her and her brother John to run the farm. In October 1804 she married a young man of the same age from the next parish, Thomas Griffiths – and that is why she is known as 'Ann Griffiths', despite the fact that it was as 'Nansi Thomas' that she would have been known by all and sundry for most of her life. On their marriage, Thomas came to join Ann and her brother at Dolwar Fach. Then, ten months later, in August 1805, Ann died aged 29, following the birth of a baby daughter, Elizabeth (who was born on 13 July and buried on 31 July, two weeks before her mother).
Ann Griffiths lived throughout her short life in the same farmhouse in northern Montgomeryshire, and was buried within a stone's throw of that farmhouse, at Llanfihangel-yng-Ngwynfa parish church, where she had been christened and married. However, this brief outline does scant justice to the richness and fullness of her life, for as Canon Allchin has said on more than one occasion, it would not be inappropriate to apply to the brief compass and narrow confines of Ann's life, a couplet from a poem by that great Welsh mystic poet of the twentieth century, Waldo Williams (1904–71):
Beth yw byw? Cael neuadd fawr
Rhwng cyfyng furiau.
[What is living? Having a great hall
Between narrow walls.]
An age of transformation
Ann's lifetime, the last quarter of the eighteenth century, was an age of great change in many spheres – in agriculture, industry, politics, culture and religion. It was an age of great awakenings – the age of the French Revolution and the Methodist Revival. Ann was 13 years old at the time of the French Revolution. That was followed almost immediately by an extended period of warfare between Britain and France. Indeed, Britain and France were at war for almost the whole of Ann's adult life. One of the keenest supporters of the French Revolution and its radical principles was William Jones (1726–95), who lived in Llangadfan, in fairly close proximity to Ann Griffiths. He was an ardent Welshman who was at one time intent on establishing a Welsh-speaking colony in America. He was such a fervent supporter of radical principles that his letters were intercepted by Government spies. Ann Griffiths moved in less radical circles politically, but the war with France deeply concerned her and, after joining the Calvinistic Methodists, she would regularly attend the prayer meetings held on Wednesday mornings specifically to pray about the war.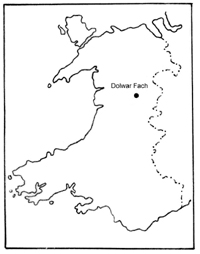 Map of Wales showing
Dolwar Fach
(Christine James)
As Dr Enid Roberts has emphasised, Llanfihangel-yng-Ngwynfa was not as remote as one might imagine in Ann's day. By that time coaches which ran regularly along routes from London to Holyhead, from Chester to Cardiff, from Shrewsbury to Bala and from Chester to Aberystwyth, all passed within fairly close proximity to Ann's home. Indeed, as Dr Roberts has remarked, the area was better served by public transport in her day than now!
Ann's native area, then, was no backwater, despite its being rural. It was open to influences of all sorts, and the various awakenings of the eighteenth century – economic, cultural, political and religious – were all to affect Ann, her family and her community in a variety of ways and to varying degrees.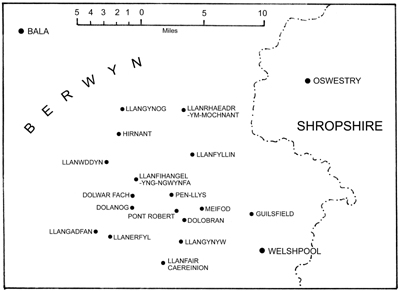 Ann Griffiths Country
(Christine James)
Ann's family
Ann was born into a family that was fairly comfortable in financial terms, a farming family prominent in the local community. Her parents, John Evan Thomas and Jane Theodore, were both born in the parish of Llanfihangel-yng-Ngwynfa. Her father's family roots were deep in that parish and her mother's roots also lay deep in northern Montgomeryshire. When they married in February 1767, John Evan Thomas took his bride to live at his parents' farm, Tŷ Mawr Dolwar, and there their first two children were born, Jane in 1767 and John in 1769. In 1770 the family moved to Dolwar Fach, and it was there that their other three children were born, Elizabeth in 1772, Ann in 1776 and Edward in 1779.
The Dolwar Fach family seems to have been close-knit and hospitable, popular in the locality and prominent in the social and cultural life of the community. John Evan Thomas is said to have been a sensible, genial and diligent man, highly respected in the neighbourhood. He could read and write, and served on a number of occasions as Churchwarden and also as one of the parish's Overseers of the Poor, both of which were key offices in local community life during that period. We know little of his wife, Jane Theodore, apart from the fact that she was probably related to some of the more well-to-do families of the neighbourhood.

Brothers and sisters
Ann's elder brother, John, worked at home on the farm all his life. He remained unmarried. He died about eighteenth months after his sister Ann, and was buried in January 1807 in Llanfihangel churchyard.
The other brother, Edward, worked at home on the farm until 1801. He married in 1798 and brought his wife, Elizabeth Savage, to live at Dolwar Fach. In the spring of 1801, Edward and Elizabeth moved to their own small farm a few miles away in the parish of Llangynyw, taking with them their young son, John, who was born in October 1799 – and it is worth remembering that from October 1799 until spring 1801 there was a baby boy at Dolwar Fach, with his aunt Ann helping to rear him. Edward Thomas was sentenced to a year's imprisonment in 1819 after killing another farmer during a quarrel. By then his family had moved to the industrial valleys of south Wales, to the vicinity of Merthyr Tydfil, where Edward Thomas died in 1852.
Ann's elder sister, Jane, appears to have moved to the market town of Llanfyllin, about five miles north-east of Dolwar Fach, in 1791. She married a shopkeeper in that town named Thomas Jones, who died in 1804, shortly after Ann's marriage. Jane then took responsibility for the business, transferring it in turn to her only child, John (who was probably born around 1793). Jane remarried in 1807. Her second husband, Abraham Jones (1775–1840), was a prominent leader among the Calvinistic Methodists of Montgomeryshire. Jane and Abraham Jones moved in 1830 to the Llanrhaeadr-ym-Mochnant area, a few miles north of Llanfyllin, where she died in 1851. Her son, John, was a prominent figure in Llanfyllin, and both he and his son (another John) were in the forefront of the campaign in the mid-nineteenth century to erect a monument to the memory of his aunt, Ann Griffiths, in Llanfihangel-yng-Ngwynfa churchyard.
Elizabeth, Ann's other sister, moved to the parish of Llangadfan in 1793, on marrying Thomas Morris, a farmer from that parish. She raised a fairly large family and died in 1818. Although Elizabeth lived only about five miles to the south-west of Dolwar Fach, there seems to have been a distinct coolness in her relationship with the rest of her family, at least until her father's death in 1804.

Mistress of Dolwar
Both Ann's sisters had left home before their mother's death in 1794, leaving Ann at 17 years of age as mistress of the household; and she would remain mistress of Dolwar Fach for the rest of her short life. As mistress of the household, she would have been responsible for keeping house and supervising the work of the maid (or maids). She, together with the maid(s), would have been responsible for milking and for processing the milk, butter and cheese, and would have helped with other chores around the farm as necessity demanded. She would also have regularly undertaken another important task, namely preparing and spinning wool. Montgomeryshire was one of the main centres of the woollen industry in Wales in that period. Many of the county's farmers spun wool in order to supplement their income, and at the time of Ann's death there was a loom, five spinning wheels and about eighty sheep at Dolwar Fach.

Personal profile
Judging from the descriptions we have of Ann, we can gather that she was taller than average and rather stately in appearance, although gentle in character when one got to know her. She had long dark hair, a high forehead and a slightly arched nose. She was rather pale in complexion, with rosy cheeks and bright eyes.
We have no portrait of Ann. The familiar effigy of her in the Ann Griffiths Memorial Chapel in Dolanog (reproduced on the home page of this website) is an imaginary likeness based on descriptions of her by contemporaries. Her nephew, John Jones of Llanfyllin, apparently looked very like his aunt. A silhouette of him has survived. It was reproduced, together with photographs of his children and some other close relatives, in David Thomas's book, Ann Griffiths a'i Theulu ['Ann Griffiths and Her Family'] (1963), and between them we can gain a fair idea of how Ann would have looked.
Silhouette of John Jones, Llanfyllin, and a picture of his daughter, Margaret
John Jones was a nephew of Ann Griffiths, and was apparently her living image
Ann is described as being rather frail, no doubt reflecting the fact that she was plagued by ill-health throughout her life. She was often ill, and is said to have suffered from rheumatic fever on three occasions during her lifetime. This was possibly the cause of her death, since her heart may have been unable to stand the strain of childbirth due to damage to the cardiac valves caused by rheumatic fever. It is also possible that she was suffering from tuberculosis at the time, and that that was another cause of death. It is worth noting in passing that tuberculosis often sharpens the sufferer's faculties.
Although frail of body, Ann was strong in mind and character. The picture we have is one of a young woman who was full of life, rather impulsive, witty and mischievous by nature, single-minded, meticulous and passionate. Ann is portrayed as being affectionate and cheerful, and a born leader among her contemporaries. She was a gifted person, with an astute mind and an exceptional memory, and although she received little formal education, she was able to both read and write. Ann was very much at home in the merry-making which characterised the fairs and wakes and informal evening entertainment of her day, and she was especially fond of dancing.

Religious upbringing
Ann received a religious upbringing. Her father was a conscientious member of the Anglican Church, the established church in Wales at that time, and he regularly attended the services at Llanfihangel parish church. An indication of the regularity of Ann's father's attendance at church over an extended period is to be found in the story of an old sheepdog at Dolwar Fach. The dog would follow his master to church every Sunday morning and lie quietly under his pew until the service ended; indeed, it is said that attending church had become such a habit for the dog that he would go regularly every Sunday, even when no members of the Dolwar family were present!
John Evan Thomas conducted family devotions at Dolwar Fach every morning and evening, at which he would read parts of the Welsh translation of the Book of Common Prayer. Consequently, from an early age, Ann became familiar with the Welsh Bible and majestic religious prose in Welsh, and their influence would be seen on her hymns and letters in due course.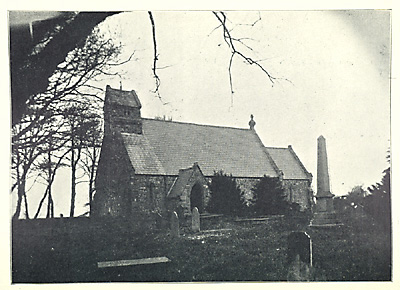 Llanfihangel-yng-Ngwynfa Parish Church
(Picture: John Thomas)
The present church was built in 1862-63.
The Ann Griffiths memorial column, erected in 1864, is on the right.

Carol and englyn
Despite its proximity to the English border, the community language in Ann's area was Welsh. Her district sported a lively cultural life during Ann's youth, especially as regards poetry. Poems in traditional Welsh strict-metre forms, such as the englyn and the cywydd, written in cynghanedd (an intricate system of alliteration and assonance), were very popular, as were ballads and rustic plays (or anterliwtiau as they were called, derived from the English word 'interlude'). Indeed, the chief exponent of such plays, Twm o'r Nant (Thomas Edwards; 1739–1810), lived in the area for a time when Ann was a small girl.
Carols were especially popular in the area, carolau haf (summer carols) and carolau plygain in particular. The traditional Welsh plygain carols were sermons in song, full of biblical phrases and references, in complex metres. They were composed to be sung at the early morning Christmas service (the Welsh word plygain comes from the Latin for 'cock crow'). Although they refer to the birth of Christ, their main theme is to trace the salvation in Christ from beginning to end, often starting in the garden of Eden, and ending with exhortations to faith and repentance and good works. This particular Christmas carol-singing tradition was at its strongest in northern Montgomeryshire, and a form of that tradition persists to this day in the area around Llanfihangel-yng-Ngwynfa.
Ann and her family were heavily involved in the bustling cultural life of their community. According to her biographer, Morris Davies, their neighbours would congregate in Dolwar Fach to hold informal evening entertainment, or nosweithiau llawen (lit. 'merry evenings'), where there would be singing to harp accompaniment, dancing, and playing cards and dice. Morris Davies also tells how Ann's father would sing carols while he and the family were spinning and weaving wool. Her father belonged to a circle of local poets which flourished under the leadership of the colourful bardic teacher, Harri Parri (1709?–1800) of Craig-y-gath. Some englynion by Ann's father have survived, and it seems that Ann herself could craft an englyn by the time she was about ten years of age. In the Cwrt Mawr manuscript collection held at the National Library of Wales there is a substantial volume of poetry called 'Llyfr Dolwar Fach' ['The Book of Dolwar Fach'], which contains a mix of poems by both local and better-known poets. The manuscript was for many years the property of Harri Parri, Craig-y-gath, but it seems to have passed into the possession of the Dolwar Fach family in 1796. In that year Ann wrote her name and address on one of its pages, and her hymns display the legacy of that bardic background – in the touches of cynghanedd alliteration, in her sensibility to linear balance, and in the paradoxes which pervade her work and are reminiscent of the paradoxes which characterise the plygain carols.

'Ann the English'
Although Welsh was the community language in Ann's locality, this was a border area, an area open to cultural cross-fertilisation of all kinds over the centuries. Socially and culturally the pull was strongest westward, with many people following the paths over the Berwyn mountains towards Bala and the Vale of Clwyd. To the east, those same paths lead to Shropshire; and while socially and culturally, there was a strong westward pull, economically there was a strong eastward pull, towards the more prosperous English lowlands. In one of her letters Ann uses an illustration in which a shopkeeper goes to Chester to buy £200 worth of goods to sell in his shop back home; and it is quite possible that Ann would have gone to Chester, and to Shrewsbury perhaps, not to mention Oswestry, with her sister Jane, who kept a shop in Llanfyllin.
The case of a farm-worker called John Owen, who lived near Dolwar Fach, emphasises the connections between Ann's locality and the English areas to the east. Like many others from the vicinity, John Owen would go every year to work on the harvest in Shropshire. He returned one year with a wife, Ann y Sais ('Ann the English') as she was nicknamed by the people of Llanfihangel. It appears that Ann Griffiths attended a school held by 'Ann the English' for a time, and it was there that she learned to read English and to write. Although she never became fluent in English, it is said that Ann Griffiths was able to compose light verse in that language and to write the occasional English letter, although no examples have survived. In this context, it is also interesting to note D. Gwenallt Jones's suggestion that English hymns had some influence on her work.

'Sam the English' and Thomas Charles
Ann Owen, Ann y Sais, had a son called Samuel – or Sam y Sais ('Sam the English') as he was known locally, despite the fact that he was a fluent Welsh speaker. Sam was a Methodist, and it was he who was responsible for introducing Methodism to the Dolwar Fach household. This revolutionary evangelical movement had begun in south Wales in the 1730s through the likes of Daniel Rowland, Howel Harris and William Williams of Pantycelyn, but by Ann Griffiths's youth it was spreading increasingly in north Wales, especially under the influence of the evangelical clergyman, Thomas Charles (1755–1814), a native of Carmarthenshire in south Wales who settled in the town of Bala, a strategically central location in north Wales, in the mid-1780s.
From his power base in Bala, and especially through his evangelistic and educational campaigns (his circulating schools initially, followed by Sunday schools), Thomas Charles's influence, and the influence of Methodism, spread widely throughout north Wales, with the result that north Wales would eventually become as much of a stronghold for Methodism as south Wales, despite that movement having its origins in the South. Although one could argue that the advent of Methodism to Dolwar Fach was a result of influences from the east, since it was 'Sam the English' who introduced Methodism to the family, one must look to the Welsh-speaking west, and especially over the Berwyn mountains to Bala and to Thomas Charles, to find the most important religious influences on Ann Griffiths.

Calvinistic Methodism
Methodism was a movement which placed great emphasis not only on the orthodox beliefs of the Christian faith, but on the personal experience of those beliefs, on feeling the truths of the Faith. To quote Ann Griffiths's biographer, Morris Davies, it was a religion of heat as well as light. Methodism was not a phenomenon confined to Wales, of course. There was a strong Methodist movement in eighteenth-century England also. However, it must be emphasized that the relationship between Welsh and English Methodism was one of sisters rather than of mother and daughter. Welsh Methodism in the eighteenth century was an indigenous movement with its own separate origins, and not an import from England; and whereas eighteenth-century English Methodism divided into two main camps (the Calvinistic Methodists, led by George Whitefield, and the Arminian Methodists, led by John Wesley), eighteenth-century Welsh Methodists were predominantly Calvinists.
Until 1811 Welsh Calvinistic Methodism was officially a movement within the Established Church and not a separate denomination. Nevertheless, the Welsh Methodists became increasingly denominational in stance as the eighteenth century unfolded, developing their own leadership, their own places of worship, and their own independent connexional organisation. Members of the movement would meet together in local groups called seiadau (singular seiat, from the English word 'society'), where they would discuss and examine their religious experiences and receive help and instruction on their spiritual journey. In addition, there was a network of monthly meetings and quarterly association meetings (or sasiynau; singular sasiwn) to superintend the work.
North and south Wales had separate Associations. Their quarterly association meetings were peripatetic, but from around 1760 the June meetings of the North Wales Association settled permanently in Bala. These Bala Association meetings developed into a great annual festival for the Methodists in the North, with thousands flocking there to the public preaching meetings. Preaching had a central role in the Methodist movement. In Ann Griffiths's day, an army of Methodist preachers roamed the length and breadth of Wales, and public preaching meetings were an indispensable feature of both the monthly meetings and the quarterly association meetings.

The Pontrobert seiat
The concurrence of religious and cultural awakenings is a common feature of Welsh history, and that was the case in Llanfihangel-yng-Ngwynfa in the 1790s. As has already been mentioned, it was a period of marked vitality as regards poetry, and it was also a period which witnessed a powerful religious revival, with a significant number of people in the area becoming Methodists.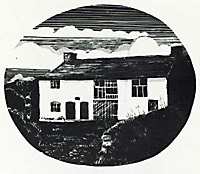 The Old Chapel, Pontrobert
(Illustration: R. Brian Higham)
This powerful religious revival had a deep and lasting effect on Ann and her family. One after another, almost every member of her family joined the Methodists and became prominent members of the local Methodist seiat. For a time, the main meeting place for that seiat was in the vicinity of Pen-llys; but as it grew, the seiat moved its main centre a mile or two south to Pontrobert, a better populated and more central location, where a Calvinistic Methodist chapel was built in 1800. However, the seiat continued to meet in other places, including Dolwar Fach. Dolwar Fach was officially licensed as a place for public worship in the summer of 1803, but it appears that the Calvinistic Methodists had been holding meetings there from around 1798 onward, possibly from about the time Ann's father joined the Pontrobert seiat.

Persecution and ridicule
In the Llanfihangel-yng-Ngwynfa of Ann's day, the Methodists and their religion were frowned upon and ridiculed. The majority of the population remained faithful to the Established Church and regarded Dissenters, and especially Methodists, with contempt and suspicion. Like many local poets during this period, Harri Parri of Craig-y-gath was strongly opposed to Dissent and Methodism, and attacked both in verse. Attacks were sometimes physical. For example, blood could be seen trickling over the Bible of the Methodist preacher, Edward Watkin of Llanidloes, after he was hit by a stone while trying to preach in the open air in Llanfyllin one Sunday afternoon in 1795. But the most common form of persecution was mockery, and it appears that Ann was more than ready to use her eloquence to ridicule the Methodists.
Like Harri Parri, the Dolwar Fach family were at first strongly prejudiced against Dissent and Methodism; but as has already been noted, in the space of a few years during the 1790s almost every member of the family became Calvinistic Methodists – first John, Ann's brother, and then her sister, Jane, followed by Edward, Ann herself, and their father, John Evan Thomas. As a result, they turned their back on Llanfihangel parish church, not to mention the leisure activities of the majority of their fellow-parishioners and the entertainment which characterised the fair, the patronal festival and the noson lawen. In Dolwar Fach, then, at the end of the eighteenth century, two religions and two cultures met and vied for supremacy, with evangelical religion and its culture eventually winning the day. In that respect Dolwar Fach may be considered a microcosm of the history of Wales in the late eighteenth and early nineteenth centuries.

Ann and the Methodists
Ann joined the local Methodist seiat in the wake of a series of intense spiritual experiences which transformed her life over a period of about a year, when she was between 20 and 21 years of age. A number of traditions exist as to how and when Ann came to hear the Congregational minister, Benjamin Jones of Pwllheli, preaching in Llanfyllin, but the most likely turn of events is as follows. One of the main fairs in the Llanfyllin calendar was that held on the Wednesday before Easter. However, the merry-making connected with that fair continued over the whole of the Easter period. On Easter Monday 1796, when Ann was almost 20 years of age, she went to Llanfyllin to join in the revelry. Jenkin Lewis, the minister of the Congregational cause at Pen-dref Chapel, Llanfyllin, had established a series of 'Easter Meetings' in order to counteract the influence of the fair, and in 1796, Benjamin Jones of Pwllheli was the guest preacher. According to tradition, as Ann passed by an open-air preaching meeting being held outside a tavern in the centre of the town, the preacher's words made a great impression.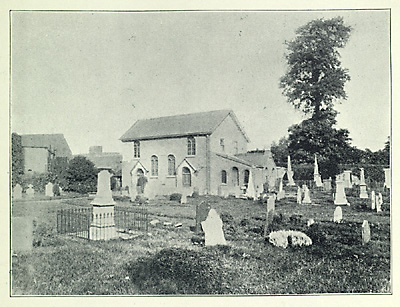 Pen-dref Chapel, Llanfyllin
One of the oldest Nonconformist causes in Wales.
The present building was erected in 1829.
After months of unease of conscience and concern for her spiritual state, and after failing to find succour in Llanfihangel parish church, Ann decided she would have to search elsewhere for a solution to her spiritual crisis. Although her two brothers, and a number of her contemporaries, had by then gone through similar spiritual experiences and had joined the local Methodist seiat at Pontrobert, Ann remained very prejudiced against the Methodists. She began making plans to go and live in Llanfyllin in order to attend the meetings of the Congregationalists there; but before her plans came to fruition, she ventured to Pontrobert to listen to a Methodist preacher and gained such spiritual benefit from so doing that her prejudices against the Methodists were dispelled. As a result she joined the local Methodist seiat and would spend the rest of her life as an active and committed member both of that seiat and the wider Methodist movement. Consequently, she would often journey over the Berwyn mountains to Bala, to attend the Calvinistic Methodist preaching meetings there and to receive the Sacrament from Thomas Charles.

Intense spiritual experiences
The immediate consequence of Ann's attending Methodist meetings was to intensify her consciousness of being far from God and unable to meet his standards and, as a result, of being under his just condemnation. Her friend and spiritual counsellor, John Hughes, a young man from the same parish, who had become a member of the local Methodist seiat shortly before Ann began attending, could say: 'She experienced strong convictions of her sinfulness and her lost condition. The authority and the spirituality of the law [i.e. the law of God] gripped her mind so powerfully that she would sometimes roll on the ground on her way home from listening to sermons at Pontrobert, in terror and tribulation of mind.'
She was not long in that condition, says John Hughes, before coming to see through faith that Jesus Christ – the One who was God and man in the same Person – had taken the punishment for her sin upon himself through dying in her stead, thereby ensuring for her forgiveness and eternal reconciliation with God. Even as her lost condition had weighed so heavily upon her that she would sometimes roll on the ground on the way home from preaching meetings, now, after coming to an assurance of faith, she would sometimes drink so deeply of the joy of salvation that she would break out into periods of rejoicing, both publicly and in private, with the sound of her praise in her room being audible some fields' length from the house at Dolwar Fach.
Ann experienced conversion during a period of general spiritual awakening in the seiat at Pontrobert. However, Ann's spiritual experiences during her conversion were particularly intense, even for a time of religious awakening. That intensity of spiritual experience during conversion was a foretaste of the passion which was to characterise the whole of her spiritual life. Intense spiritual experiences were not unfamiliar to Thomas Charles of Bala and John Hughes, Pontrobert. Both were very conversant in matters of the soul, and familiar with dealing with people who had received deep spiritual experiences during times of religious awakening. Furthermore, both had themselves been the subject of deep spiritual experiences. Yet Ann's spiritual experiences made a great impression on even those two proficient church leaders. For example, in 1840, when John Hughes, Pontrobert was 65 years old, he could say of Ann Griffiths that she was 'a woman of stronger faculties than normal for the female sex; she also shone with greater intensity and prominence in spiritual religion than anyone I saw during my lifetime'.
It has already been observed that Llanfihangel-yng-Ngwynfa was a border area and a cultural crossroads, and that Dolwar Fach was a meeting place for two types of religion and two forms of culture at a crucial period in Welsh history. In the light of the exceptional spiritual experiences mentioned above, Canon Allchin goes further and says that Dolwar Fach in Ann's day was a notable meeting place of time and eternity, of heaven and earth.

Ann Griffiths's work
Ann, then, was considered a person whose spiritual experiences were remarkable even at a time of powerful religious awakening. The examples of Ann's work that have been preserved for us are both the fruit of those intense spiritual experiences and an expression of them.
The sum total of her surviving work is small: eight letters and just over 70 stanzas, and only one letter and one stanza in her own hand. The two people who are central to the preservation of her work are John Hughes, Pontrobert, and his wife, Ruth Evans.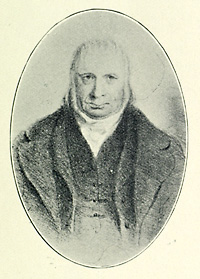 John Hughes, Pontrobert
(1775-1854)
John Hughes (1775–1854) was a poor young weaver from the same parish as Ann. He was a year older than her and had become a member of the local Methodist seiat a year prior to her. He would soon become a promising young leader among the Calvinistic Methodists in Montgomeryshire and would remain an influential preacher in their midst for more than fifty years. He became a spiritual mentor and counsellor to Ann Griffiths soon after her conversion, and his short memoir of Ann, published in the periodical Y Traethodydd ['The Essayist'] in 1846, forty years after her death, is the single most important source we have for her life and character.
Ruth Evans (1779?–1858) was a maidservant at Dolwar Fach. She was from Llandrinio, a part of Montgomeryshire very close to the English border. Her parents were among the pioneers of the Methodist cause in that area and she herself became a Methodist in about 1791. Ruth came to Dolwar Fach as a maidservant in May 1801 and remained there until her marriage to John Hughes in May 1805. A special friendship developed between her and Ann during this period. John and Ruth Hughes lived in a number of locations in the vicinity of Pontrobert during the early years of their marriage, but by 1811 they had moved to the small house attached to the Methodist chapel in Pontrobert, erected in 1800, where they spent the remainder of their long lives.

Ann's letters
Seven of the eight letters by Ann which have been preserved were sent to John Hughes. The original letters have not survived; however, John Hughes made copies of them in a copy-book soon after receiving them, and that manuscript book is now held at the National Library of Wales in Aberystwyth.
Shortly after joining the Methodists, John Hughes became a teacher in Thomas Charles's circulating schools. Towards the end of 1799 or the beginning of 1800 he began to keep school in the Llanfihangel-yng-Ngwynfa area, lodging at Dolwar Fach for some months. While there, as John Hughes himself tells us, he would spend 'on many occasions several hours conversing with Ann on scriptural and experiential matters, and that with such delight that the hours would pass unawares'.
John Hughes left Dolwar Fach in 1800, and from then until the spring of 1805, although he visited the Llanfihangel and Pontrobert area quite regularly, he taught in circulating schools in south-west Montgomeryshire, in the area between Machynlleth and Llanidloes. It was during this period that the correspondence between him and Ann arose, as a continuation of their conversations at Dolwar.
Ann's first letter to John Hughes is dated 28 November 1800. All except one of the other six letters are undated. They were all written before Ann married in October 1804, since they are all signed 'Ann Thomas', and there is reason to believe that they were all written between November 1800 and the summer of 1802. Only one of John Hughes's letters to Ann has been preserved, and that is also undated; however five of his letters to Ruth Evans during her time as a maidservant at Dolwar Fach have survived. The five belong to the years 1803 and 1804. It is fairly certain that Ann would have read these letters since they are not 'private' love letters but rather letters on subjects of a spiritual nature. It would have been quite normal for Ruth to share their content with others, and there are a number of interesting concurrences between these letters and Ann's hymns as regards both content and actual wording. Indeed, comparing Ann and John's work leads one to agree wholeheartedly with O. M. Edwards when he said: 'In the years 1800–1805, Ann Griffiths's mind and John Hughes's mind were on the same matters.'
The only letter that has survived in Ann's own hand was sent to another young Methodist, a young woman named Elizabeth Evans, who was a maidservant on a farm called Bwlch Aeddan in the parish of Guilsfield, a few miles east of Dolwar Fach. It is possible that this Elizabeth Evans was a sister of Ruth Evans, the maidservant at Dolwar Fach and spiritual confidante of Ann Griffiths. This letter is also undated. Since the date 1801 was at one time visible on a watermark on the paper on which the letter was written, and since it is signed 'Ann Thomas', we can date the letter to sometime between 1801 and October 1804, and it is quite possible that it was written around the summer of 1802. The original letter is one of the great treasures of the National Library of Wales in Aberystwyth. Ann appended to the letter the stanza 'Er mai cwbwl groes i natur yw fy llwybyr yn y byd . . .' ['Although my path in the world is totally contrary to nature . . .'], the only example of her poetry to survive in her own hand.

Seiat matters; seiat language
Although Ann's letters have not been afforded as much attention as her hymns, it is important to remember that such critics as Saunders Lewis consider them to be spiritual classics, containing examples of notable religious prose. The letters take us headlong into the rarefied atmosphere of the Methodist seiadau at the end of the eighteenth century and the beginning of the nineteenth. There is a certain difference in aura between Ann's letter to Elizabeth Evans and those she wrote to John Hughes. In the letter to Elizabeth Evans, Ann shares her experiences with a 'sister in the Lord', whereas in those written to John Hughes she is sharing them with a spiritual counsellor, one who is her 'father in the Lord' despite there being only a year's difference in age between these two young Methodists. Yet, in essence, the content of all the letters is uniform. Scriptural verses, the spiritual state of the Pontrobert seiat and of religion in general, and her own spiritual condition in particular – 'relating how things are with me' – that is Ann's subject matter in each and every letter. Essentially, then, the letters are discussions on seiat matters by seiat members in seiat language, and not informal letters between close friends.
The letters reveal warm relationships, as evidenced by greetings such as 'Dear sister' and 'Dear brother' which pepper them throughout; yet their whole stance and diction betray them to be an extension of the formality and courtesy of the seiat. Furthermore, it is important to remember that these were not private letters, despite their being poignantly personal at times as Ann proceeds to analyse her spiritual condition. Such analysis was characteristic of the seiat, and Ann would expect her fellow seiat-members to read her remarks in these letters, just as she would expect them to listen to her oral contributions in the seiat, and as she in turn would read for her spiritual benefit the letters John Hughes sent to her brother John, to Ruth and to other friends at the Pontrobert seiat. Indeed, when John Hughes received letters from Ann, it appears he would read them aloud in the local seiat he attended wherever he happened to be schoolmaster at the time, 'for the edification and comfort of the members'.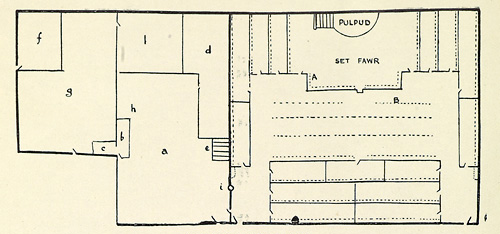 The plan of the chapel is on the right, and the plan of the house and outbuildings is on the left. The dotted lines represent benches.
A: John Hughes's place in the 'big seat' (sÍt fawr); B: his place in the seiat.
a: John Hughes's kitchen; b: the fireplace; c: fireplace oven; d: the pantry; e: the stairs to the loft; h: John Hughes's chair in the corner near the fire; i: round hole in the chapel wall, to enable those in the house to hear. f: John Hughes's cowshed; g: the chapel's stable; l: stable for the preachers' horses.

Floorplan of the Old Chapel, Pontrobert
(from Cymru 1906)
The chapel was erected in 1800 for the local Calvinistic Methodist seiat.
Ann Griffiths would sit to the left of the pulpit.
The house which is attached to the chapel was the home of John Hughes and Ruth Evans
for most of their married life.

Ann's hymns
It is quite likely, therefore, that Ann would not be over-troubled by the knowledge that her letters are read and discussed by people today. However, her hymns are a different matter altogether, for to her the private compositions were not her letters, however poignantly personal they can be at times, but rather her hymns, despite their being in some ways much more objective in content.
We can probably justify referring to Ann Griffiths's poems as 'hymns' on the basis that they are praise poems and that they are poems to be sung; but they are most certainly not congregational hymns. It is clear that Ann was conscious of the exceptional nature of her spiritual experiences, and that she felt the need to record them. According to John Hughes, Pontrobert, she had at one time intended to keep a religious journal. Instead of that, he says, she began to compose verses of hymns when there was 'something in particular on her mind'; and several anecdotes have been preserved which suggest that her hymns are the product of periods of deep meditation – periods when she would 'completely fail to stand in the way of my duty with regard to temporal things', as she explains in her letter to Elizabeth Evans. Her hymns, then, are a kind of personal diary, recording and encapsulating her religious experiences and perceptions.
It is true that a number of her stanzas became the property of a wider circle during Ann's own lifetime. It appears that Methodist preachers who came to Dolwar Fach to hold meetings were the means of spreading some of them to other seiadau. Other verses were probably circulated in letters to friends, like the one Ann appended to her letter to Elizabeth Evans. Ann recited some to members of her family; she recited many of them to Ruth the maid. But not all. It is clear that she sometimes felt the need to keep some of her verses completely to herself. It is said that on occasions she would hide verses on pieces of paper under the cushion of the cane chair in the kitchen, and that Ruth would take a stealthy look at them and learn them; and when Ruth urged Ann, as her health deteriorated, to record her verses on paper lest they be lost, her answer was that she did not feel they were worthy of preservation. 'I do not wish anyone to have them after me,' she said; 'I compose them for my own comfort.'
Fortunately, Ann did not have her way. Ruth's memory, and both her realization and that of others, of the hymns' value, prevailed. After Ann's death, Ruth recited them to Thomas Charles of Bala. Ruth could not write, but Thomas Charles urged her husband, John Hughes, to write the hymns down so that he might publish them. That is what happened, and a good number of the stanzas were published in a small collection of hymns which appeared within a few months of Ann's death.

Publishing Ann's work
John Hughes recorded Ann's stanzas in copy-books which are now held at the National Library of Wales. Around two-thirds of those stanzas were published, together with the work of other hymn-writers, in a slim volume entitled Casgliad o Hymnau ['A Collection of Hymns'], printed in Bala in early 1806. At around the same time, a number of these stanzas were published in an appendix to the second edition of an influential hymnal compiled by Robert Jones (1745–1829) of Rhos-lan, Grawn-sypiau Canaan ['Bunches of Grapes from Canaan'], and it is quite possible that Robert Jones assisted Thomas Charles in preparing Ann's hymns for publication.
There are significant differences between Ann Griffiths's stanzas in Casgliad o Hymnau (1806) and the form in which they appear in John Hughes's copy-books, not only with regard to their wording but also in the way they are combined into hymns. It is now generally accepted that their form in John Hughes's copy-books, rather than that in Casgliad o Hymnau (1806), is usually closest to the original form of composition, and that many of the differences between John Hughes's manuscript versions and the early printed versions are the result of editorial interference by Robert Jones and Thomas Charles (and possibly John Hughes).
Of those stanzas in John Hughes's copy-books which were not published in Casgliad o Hymnau (1806), John Hughes published all but seven when he published Ann's biography in the middle of the nineteenth century, revising them at will rather than reproducing them in the form in which they were recorded in his copy-books. Of the remaining seven unpublished stanzas, five were not published until 1882, and the final two did not appear in print until 1903.
Although Ann's stanzas were republished regularly during the nineteenth century, and were selected for inclusion in numerous nineteenth-century hymnals, it is important to note that it was the edited versions produced by Thomas Charles, John Hughes and Robert Jones, Rhos-lan, which were in circulation throughout that century. It was not until 1905 that John Hughes's manuscript versions were published for the first time, in the volume Gwaith Ann Griffiths ['The Work of Ann Griffiths'], edited by O. M. Edwards. It is worth remembering, therefore, that Ann Griffiths's growing reputation during the nineteenth century was founded on texts of her hymns which were at times very different from their original form.
This is also true of Ann's letters. John Hughes published three of these for the first time in periodicals during the years 1819–23. The remaining five appeared for the first time with his biography of Ann Griffiths in 1846. Yet again, John Hughes was quite prepared to edit and revise the letters rather than faithfully reproduce the manuscript versions, and it was the beginning of the twentieth century before the letters appeared in print in the form in which they are preserved in John Hughes's manuscripts.

Order and date
There are 73 stanzas which may be ascribed to Ann with some confidence. They form 30 hymns. Some of these hymns comprise a single verse, while the longest, her magnificent poem 'Rhyfedd, rhyfedd gan angylion . . .' ['Wondrous, wondrous to angels . . .'], is a notable composition in seven verses. Her single-verse hymns are often less well-crafted than the multi-verse ones, and it is possible that a number of them are fragments of poems which have not been fully developed. The multi-verse hymns often give the impression of having started out as single verses, the product of short periods of intense meditation, which then developed into longer compositions, step by step, over a period of months or even years. Did Ann herself combine the individual verses into multi-verse hymns, or did John and Ruth, and others, play their part? It is by now almost impossible to tell.
Although one can give tentative suggestions regarding the date of composition of a few stanzas, it is impossible to state with any confidence when and in what order they were composed. However, one may cautiously suggest that the majority, if not all, of Ann's stanzas are the product of the period 1802–1804.

Metre
Ann employed a variety of metres in her stanzas, some eight in all. However, the vast majority of her stanzas – some two-thirds – are in the metre known as '87.87.Double' (eight-line verses, with alternate lines in eight and seven syllables). This is an exceptionally popular metre in the history of Welsh hymnody. It is a majestic metre whose eight long lines allow the hymnist to compose on a wide canvas as regards both content and craft.
Almost all of Ann's '87.87.Double' verses are on a variant of that metre which allows for an irregular number of syllables – the so-called '87.87.Dwbl Clonciog' ['Jolting 87.87.Double']. This variant is characterised by the irregular inclusion of additional unaccented syllables at the beginning of lines. It should be added that irregular syllabic patterns are also characteristic of Ann's use of other metres. Her lines are regular in the number of accented syllables, but not always in the total number of syllables.
This 'metrical fault' has been the focus of much criticism over the years, and the cause of considerable revision of her work by editors of hymnals keen to regularise the length of her lines to facilitate congregational singing. However, this characteristic of her work is not a metrical fault as such. Syllabic irregularity was a common feature of Welsh folk-songs in Ann's day. There is no difficulty in singing Ann's so-called 'jolting' hymns on folk-tunes such as 'Y Ferch o Blwyf Penderyn' ['The Lass from Penderyn Parish'], for example. All this serves to strongly suggest that Ann had the popular folk-tunes of her locality in mind when she composed a number of her hymns.

Characteristics of her hymns
This is not the place to elaborate on the characteristics of Ann's hymns. However, their chief characteristics may be summarised under three headings:
1. Objective
As Saunders Lewis emphasised in his celebrated lecture, 'Ann Griffiths: Arolwg Llenyddol' ['Ann Griffiths: A Literary Overview'], Ann is a poet of contemplation, a poet of the intellect, a poet who gazes outwards in wonder at the panorama of biblical truth. Her ability to think lucidly and to give crystal-clear expression to that thinking, is one of the most exceptional characteristics of her work. One striking feature of her letters is the number of times the word meddwl ['mind'] occurs in them. Another important word in her vocabulary is gwrthrych ['object'], together with words such as gweld ['see'] and edrych ['look']. 'Behold standing among the myrtles an object worthy of my desire' she says in the opening lines of one of her most famous hymns.
2. Subjective
In addition to the objective, a deep sense of personal experience permeates her hymns. Her purpose in composing them was, in one respect, to give expression to her spiritual experiences in order to take fuller possession of them. The first person singular is very prominent throughout her hymns. 'An object worthy of my desire' is the One she sees standing among the myrtles. Interestingly, two versions of that well-known verse are preserved in different places in John Hughes's copy-books. Ann herself is probably responsible for the variations between the versions; and together they serve to underline the blending of the objective and subjective which is to be found throughout Ann's work, since the opening words of one version are 'Wele'n sefyll . . .' ['Behold standing . . .'], emphasising the objective gaze, whereas the other opens with the more subjective 'Gwela'i yn sefyll . . .' ['I see standing . . .'].
3. Biblical
The Bible is central to Ann's life and work. A very real danger for one who received such powerful spiritual 'visitations' as Ann, would be to become controlled by those feelings and experiences. Not Ann. To her, the Bible is God's infallible Word, the divine revelation which is the ultimate authority for every aspect of her life, mind and experience. She feared 'imaginations of all sorts', and gave thanks for 'the Word in its unconquerable authority'. Furthermore, the Bible plays a key role in the process of forming and interpreting Ann's experience of God.
In the light of Ann's high view of the Bible, it is not surprising that the Scriptures were her chief reading material and focus of her meditation. Phrases such as 'that word on my mind' are a regular refrain throughout her letters, as verse after verse from the Bible grips her mind and addresses her condition. She immersed herself in the Bible, in all its parts, both Old Testament and New. She saw it as one rich tapestry worked by one divine Author. She also saw the whole as turning around the person of Jesus Christ. He is the key to every part of the Bible; to Him it all refers, sometimes overtly, sometimes in parable and type.
Bearing all this in mind, it is not surprising that Ann's work is shot through with biblical references and resonances, taken from all parts of Scripture. In respect of her use of biblical references, it is appropriate to regard Ann Griffiths a classical poet, for in her work the mind darts to and fro between the poem and the source of the reference, each context enriching the other in turn. Indeed, if we fail to consider Ann's work in biblical light, we not only lose strata of meaning and significance, but we are also are in danger of seriously misunderstanding and misinterpreting her work. For example, depths of meaning are lost unless we realise that the line 'Behold standing among the myrtles' refers to the vision in the first chapter of the prophecy of Zechariah in the Old Testament, and that Ann is interpreting that vision of a mighty, armed warrior on horseback standing among the myrtles in the hollow, as a portrayal of Christ defending God's people (the 'myrtles') in their low and straitened circumstances.
All Welsh hymn-writers echo the Bible in their work, but Ann's use of the Bible is more concentrated than the others. The resonances are more frequent and more tightly woven together. Derec Llwyd Morgan has aptly described Ann as creating a collage of biblical images in her work. Directly or indirectly, the language of all her hymns is based on that of the Bible, and the Bible is the source of all the imagery she employs in making concrete her ideas and experiences. This has led to the accusation that Ann does little more in her work than string biblical texts together. However such comments are misguided, for it is clear that Ann selects her imagery skilfully and creatively, and that she is so steeped in the language of the Bible that she is able to make it the language of her own deepest experiences.

Themes of her hymns
Nor is this the place to elaborate on the themes of Ann Griffiths's hymns. However their chief characteristics may also be summarised under three heads:
1. Law
God's law occupies a central place in the life and work of Ann Griffiths. To her, in a sense, the law defines God's character, and draws together the various threads in the process of salvation. The first thing the law does is show Ann that she cannot fulfil its demands, that she has transgressed against God's law and that she is consequently unacceptable to him – in a word, that she is a sinner. But the law also has a positive role to play, for although it condemns her on the one hand, yet, because it is an expression of God's character and will, it presents her with a pattern to emulate, it defines holiness.
2. Image
Running through Ann's work is a deep desire for holiness, a longing to conform with the pure and holy laws of heaven, and to be found in the image of Christ. Although she strives towards that in this earthly life, Ann is conscious that she will not attain it completely this side of the grave. That goes part way to explain the great longing for heaven expressed in her work. Death will be gain for her, as she says in her letter to Elizabeth Evans, since she will thereby 'be able to leave behind every inclination that goes against the will of God, to leave behind every ability to dishonour the law of God, every weakness being swallowed up by strength, to become fully conformed to the law, which is already on our heart, and to enjoy God's image for ever'.
3. God-man
Yet it is not so much a longing for heaven which she expresses in her work as a longing for Jesus Christ, for 'the great object of His Person'. In essence, the longing which pervades her work is the desire to be in an unsullied and never-ending communion with Christ: 'Kissing the Son for eternity without turning from Him ever again.' He is the perfect pattern, the worthy object. He is the only one, through his propitiatory death on the cross, who is able to open 'a lawful way for lawbreakers to peace and favour with God'. He – who is at once God and man, who encompasses and conciliates heaven and earth – is the chief cause of the wonder which is such an obvious characteristic in her work, and the chief source of the paradoxes which are such an integral part of the warp and weave of her thought and expression.

The final years
The years 1804 and 1805 saw great changes at Dolwar Fach. In February 1804 Ann's father died suddenly. That was a bitter blow which left its mark on Ann's health for the rest of her days. His death must also have added considerably to the workload of both Ann and her brother John as they now shouldered the responsibility of running the farm. In October 1804 Ann married Thomas Griffiths, a young Methodist leader from a well-to-do family in the next parish, but whose physical health was no better than that of Ann and her brother John.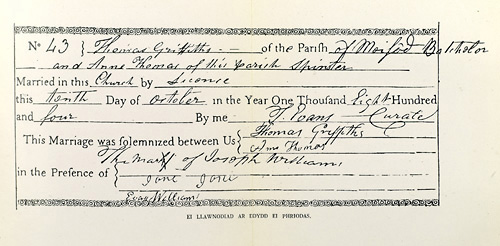 Record of the marriage of Thomas and Ann Griffiths in the
Llanfihangel-yng-Ngwyfa parish register
In May 1805, Ruth Evans left Dolwar Fach when she married John Hughes. Ann was some seven months pregnant at the time. When she was born on 13 July 1805, Elizabeth, the daughter of Ann and Thomas Griffiths, was a very weakly baby. She was baptized that same day, not in Llanfihangel church, but by Jenkin Lewis, the minister of Pen-dref Congregational Chapel in Llanfyllin. The child died within a fortnight and was buried in Llanfihangel churchyard on 31 July 1805.
Ann herself was extremely weak after giving birth, and died less than a fortnight after her daughter. She was buried on 12 August 1805, aged 29, in Llanfihangel churchyard. The following Sunday John Hughes delivered a funeral sermon in her memory in the Methodist chapel at Pontrobert. He chose as his text a verse from the first chapter of Paul's Letter to the Philippians – a verse which commands a central place in Ann's letter to Elizabeth Evans, the only letter that has survived in her own hand – 'For me to live is Christ, and to die is gain.'